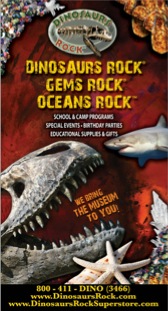 Purchase Orders from Schools & Universities Gladly Accepted. Please e-mail P/O to info@dinosaursrock.com

PLEASE NOTE TWO (2) TYPES OF QUALITY & PRICE POINTS YOU CAN CHOOSE FROM .
1ST GRADE - BEST SPECIMENS, 2ND GRADE - GOOD QUALITY.


NOTE: ON 1ST GRADE QUALITY ONLY - For orders of Quantities 5 and over call us toll free at 1-800-411-DINO (3466) for Discounted Pricing!

Over the past 14-years, over 800 Museums & Universities choose DINOSAURS ROCK for their Bulk Fossil needs - shouldn't you?


Click on each bulk fossil photo below for a larger view.